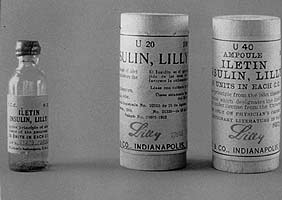 Eli Lilly and Company
[1]
is an American pharmaceuticals giant from Indianapolis. Eli Lilly has been producing insulins commercially since 1923.
Studies done on all Lilly vialed insulins--Humulin, Iletin, and Humalog, show that the stoppers have sufficient resealing properties to maintain a good seal after 100 punctures. What this means to you is that the insulin will stay potent longer[2].
More on the company and its products here.
References
Edit
Ad blocker interference detected!
Wikia is a free-to-use site that makes money from advertising. We have a modified experience for viewers using ad blockers

Wikia is not accessible if you've made further modifications. Remove the custom ad blocker rule(s) and the page will load as expected.